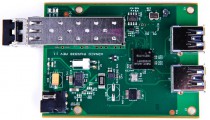 Adnaco-R1USB30B: Remote Host with 2 USB 3.0 Ports
The Adnaco-R1USB30 is a remote standard-USB 3.0 host controller which can operate at distances up to 250 meters from the location of your computer. The R1USB30 provides 2 USB downstream ports compliant with the USB3.0 specification.
Contact us for details
Contact-us

The Adnaco-R1USB is a remote standard-USB 3.0 host host controller which can operate at distances up to 250 meters from the location of your computer. Powered by our PCIe over-fiber-optic technology, the R1USB30 was designed to best suit in many applications to realize the USB host interface. The R1USB30 provides 2 USB ports compliant with the USB3.0 specification. All USB ports can handle followed interfaces:
Super-Speed (5.0 Gb/s)
High-Speed (480 Mbps)
Full-Speed (12 Mbps)
Low-Speed (1.5 Mbps)
Each port supports high-power devices (500 mA). The R1USB30 is connected to a host computer equipped with the Adnaco-H1A card by a fiber optic cable.
SuperSpeed USB is backwards compatible with USB 2.0. Devices interoperate with USB 2.0 platforms. Hosts support USB 2.0 legacy devices.
The R1USB30 works with all USB systems, peripherals and cables.