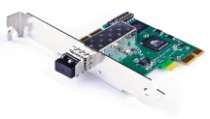 Overview
The Adnaco-H1A (H1A) is a host adapter for Adnaco PCI Express (PCIe) over fiber optic systems. The H1A provides an interface between a host computer PCIe bus and a fiber optic cable with LC connectors. The fiber optic cable connects the H1A to remote PCI/PCIe devices at distances up to 1000 meters depending on optical transceivers. The H1A can be installed in any PCIe slot and supports one full duplex 2.5 GT/s or 5.0 GT/s link. This link is transparent to software applications and drivers, so industry standard desktop computers and servers can communicate to remote PCI/PCIe devices with no additional programming.

Adnaco PCI Express over fiber optic technology
PC-centric, data-intensive embedded system applications place demanding requirements on high-performance I/O interconnect bus architectures. For inside the PC communications, the most commonly used buses for commercial and embedded applications have been PCI and PCIe types. Adnaco Technology, with its breakthrough Adnaco PCI Express fiber optic solution, brings the PCI and PCIe buses out of the PC and extends them over fiber optic cable up to 1 km. The unique feature of this technology is its transparent access to remote PCI/PCIe devices without compromising performance. Even at long distances they appear as local devices to the host PC. Installation is simple and requires no additional drivers for the remote PCI/PCIe devices.

Applications
Computer bus expansion
Industrial temperature range applications
Split-systems: remote desktop console
Manufacturing: production testing
Medical: complete isolation
NAS: remote and secure data storage
Data Acquisition: modular instruments